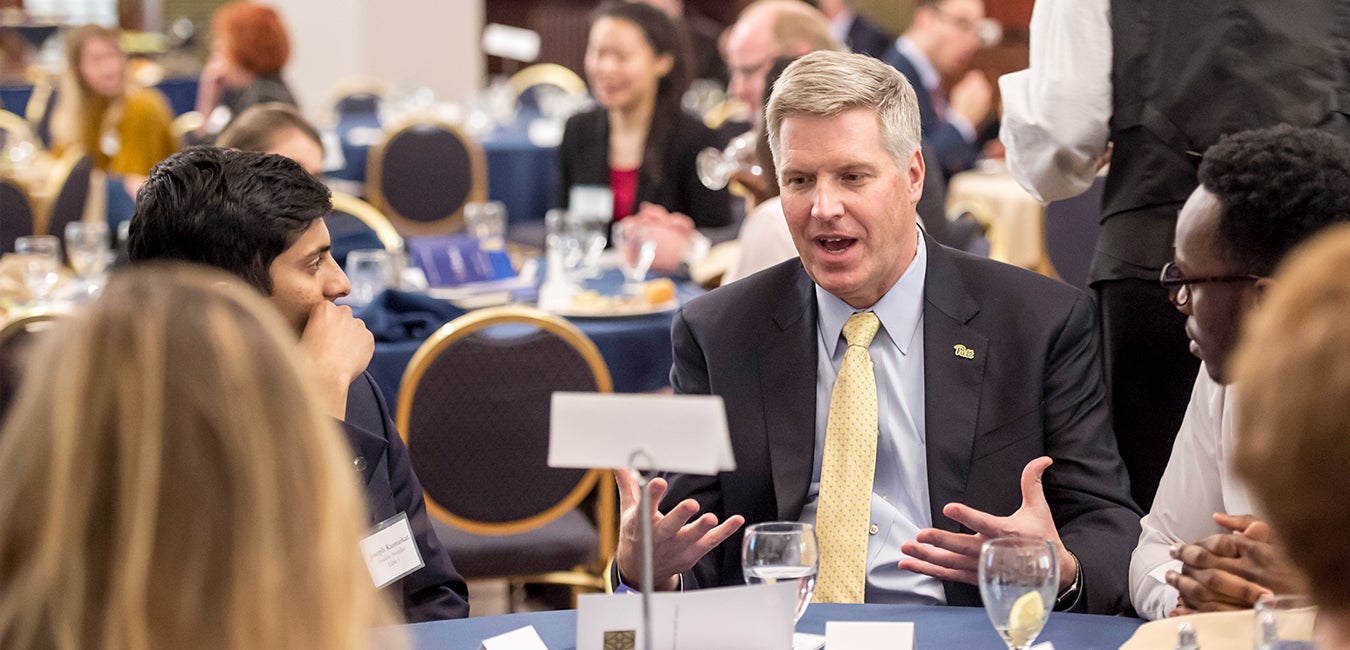 Every year, the Frederick Honors College recognizes the students who champion our values with a variety of awards and honors. At our annual awards ceremony in April, we bring together distinguished alumni and University leaders to celebrate these outstanding students and their achievements. 
All Honors awards include a financial stipend; amounts vary. 
---
All awards
(PittFund$Me matches students directly to awards they are eligible for. If there is an award you think you are eligible for that is not appearing in your PittFund$Me, please contact Kate Bowersox.)
 
This scholarship for incoming students provides tuition and a room and board stipend. 
Applications are by invitation only.
David C. Frederick Scholarship
The David C. Frederick Scholarship awards $12,500 to high-achieving sophomores who work full- or part-time to pay for their education so they can reduce their work hours to focus on academic pursuits.
Frederick Public Service Internship Awards
The David C. Frederick Public Service Internship Awards support students during unpaid summer internships at nonprofit organization or government agencies across the United States.
Stewart Achievement Award
The G. Alec Stewart Student Achievement Award recognizes students who embody the Frederick Honors College's core values of academic achievement, intellectual curiosity and commitment to social good. It honors the College's beloved founding Dean, "Doc" Stewart, whose vision of excellence and inclusion still guides our philosophies. 
Berner International Corporation Award
This endowment provides tuition assistance or research support for students whose work or research demonstrates unusual creativity, imagination and tolerance.
Elliott and Lois Finkel Award for Student Research
This endowment supports Frederick Honors College student independent research projects in humanities, social sciences, and physical sciences.
Laura LaFave & Peter Hallett Award
This endowment supports educational expenses for students studying mathematics or the natural sciences. 
Charles Lesser Scholarship
The Charles A. Lesser Scholarship provides support to an undergraduate arts and science student at the Frederick Honors College. 
Dilva Lombardi Undergraduate Scholarship
This endowment supports an undergraduate scholar based on merit and need, with special consideration given to candidates who share the particular interest in art and culture that characterized Dilva Lombardi. 
Richard A. Lombardi Award
This endowment enables 5th year undergraduate engineering students to pursue a second degree in a non-engineering discipline. Recipients demonstrate a breadth of academic interest. 
Molinari Family Endowed Scholarship
This annual award provides tuition support or support for a Frederick Honors College student's educational experience "beyond the classroom,"  like study abroad, an internship, or a special research project. 
James J. Valentini Endowed Student Resource Award
This endowment funds support for educational expenses for students studying chemistry or physics. 
Joseph P. Wiegand Family Scholarship
Tuition support for Frederick Honors College students in their sophomore, junior, or senior year, with special preference for engineering or music majors. 
Tina and David Bellet Brackenridge Research Fellowship Award
Provides financial support for independent, interdisciplinary research projects in the Brackenridge Research Fellowship program that cut across traditional academic boundaries. Awardees are selected from Honors Fellows.
The Ed McCord Experiential Learning Fund
Provides support for undergraduates to engage in field study or research, with preference given to students participating in the Frederick Honors College Wyoming Field Studies Program at the Allen L. Cook Spring Creek Preserve. 
Helen Lubit Hurwitz A&S '40 Memorial Fund
To provide support for student research projects in the Frederick Honors College being conducted by students. Preference will be given to students who reside in Pennsylvania. 
Sbragia Wyoming Field Studies Fund
To provide annual support for undergraduate Frederick Honors College students participating in the Wyoming Field Studies Courses. 
Corwin Endowed Memorial Fund
Provides support for undergrad Frederick Honors College students to engage in field study or research. Preference to students participating in Yellowstone Field Study Program. 
Joseph G. Jurcic Endowed Scholarship
The Joseph G. Jurcic Endowed Scholarship provides tuition support or other educational expenses for undergraduate students who are eligible to enroll in Frederick Honors College courses. Award shall be made to the most qualified student with preference towards interest Math, Philosophy, Medicine or Music.