It is my pleasure to serve as the Dean of the David C. Frederick Honors College, the newest degree-granting academic unit at the University of Pittsburgh. The Honors College was dedicated in 1987 as part of the University's Bicentennial with G. Alec Stewart installed as the first dean. Since its inception, the Honors College has been at the forefront in providing dynamic academic, experiential, global, research, and scholarship opportunities for Pitt's most dedicated students and setting them up for post-graduation success.
In the summer of 2022, the University of Pittsburgh received a transformational gift from renowned attorney David C. Frederick and his wife Sophie Lynn, leading to the official renaming in September as the David C. Frederick Honors College; this gift focuses on students and supporting high-impact learning experiences as well as recruitment partnerships and mentorship programs.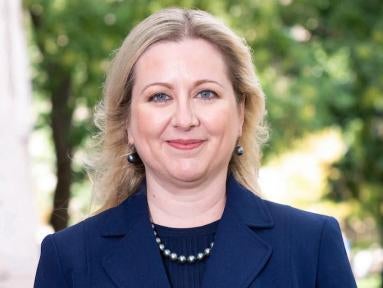 Our faculty fellows make significant contributions to the life of the Frederick Honors College. This creative cohort of thinkers is comprised of academic experts from all disciplines throughout the University, each of whom designs, creates, and teaches honors courses; mentors students in research and scholarship projects; and promotes special lectures and panel discussions.
Additionally, our team of academic advisors offers complementary support to the guidance honors students receive through their home units, by connecting them to the people and resources best positioned to further their goals. Our Office of National Scholarships and Post-Graduation Success, run by the team of scholar mentors, helps to prepare all students at the University in applying to prestigious national scholarships; they guide students through each step of the process, from identifying faculty sponsors to preparing for final interviews.
I am incredibly proud of our team of dedicated faculty and staff and our diverse group of high-achieving students. The work of the Frederick Honors College extends beyond our floors in the Cathedral of Learning. We collaborate with staff, faculty, alumni, and local partners to bring innovation back to our space while serving our local and global communities.
If you are a prospective student, I encourage you to challenge yourself and explore boldly, using every resource available to you to make the most of your undergraduate experience. I sincerely hope that you choose Pitt and choose to apply to the Frederick Honors College. With our flexible program options and support resources, there is a home for you here!
– Nicola Foote, PhD