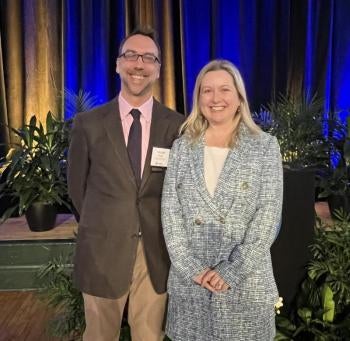 Michael Meyer, an electus faculty fellow in the David C. Frederick Honors college and professor of English in the Kenneth P. Dietrich School of Arts and Sciences, was honored with the Chancellor's Distinguished Teaching Award at this year's Faculty Honors Convocation by Chancellor Patrick Gallagher.
"Michael's dedication to the craft of teaching and his ongoing commitment to his students is undeniable," said Nicola Foote, dean of the Frederick Honors College. "Michael is extremely deserving of this accolade, a recognition of his status as an exceptional faculty member within our University community."
Meyer, who currently teaches an Honors seminar for FHC, Writing and Place, spoke of the importance of receiving this year's award: "It's a recognition of the hard work my students have put into their writing. I run a rigorous classroom, set high standards, and teach skills that require practice—and often failure—before mastery. School is supposed to be hard! A large part of my award dossier featured students' evaluations of our classes, their letters of support, and final drafts of their deeply researched and oft-revised nonfiction writing. Their work evinces curiosity, empathy, and intellectual ambition. It's an honor to teach them." 
In Meyer's Writing about Place seminar, students are reading nonfiction books that immerse the reader in a city—from Berlin to Athens to Pittsburgh—and writing about that city's corners and trades. He is also teaching an undergraduate senior seminar in which students are reading "Moby Dick," writing about paintings and fossils at the Carnegie Museums, and mastering how to find and use primary sources and conduct interviews. 
For Meyer, his teaching transcends the classroom: he promises students that his class comes with a lifetime warranty. Meyer offers to assist students who need help in other classes, for job interviews, and for applications to scholarships or graduate school. Meyer noted that winning this award serves as a reminder that the University and the Frederick Honors College support his continuing work. 
"It's exciting to watch a student become who they are," Meyer said. "Because I teach the series of core nonfiction writing courses, I often see students grow from first-years to seniors. It's an important reminder that we're all a work-in-progress, and that progress isn't linear. It's a lesson I first learned in my previous life as a K-12 teacher, and seeing that change. It doesn't stop at age 18." 
Meyer, who was also recently awarded the Berlin Prize by the American Academy in Berlin, said that the current focus in higher education seems to be more on the "higher" than the "ed," and he advises the next generation of educators to restore the primacy of academics over athletics and administration. "But I would say that; I'm a teacher."