How often do you think about food sustainability? For the Chancellor's Scholars who are involved with Scholar, Community, Honors, Ecosystems, Food (ScholarCHEF), this is a regular topic of conversation, concern and empowerment.
In late September, second-year Chancellor's Scholars hosted the 2022 Sustainability Supper, a carbon-tracked meal and forum for students, faculty and community members to discuss and learn about environmentally conscious food choices.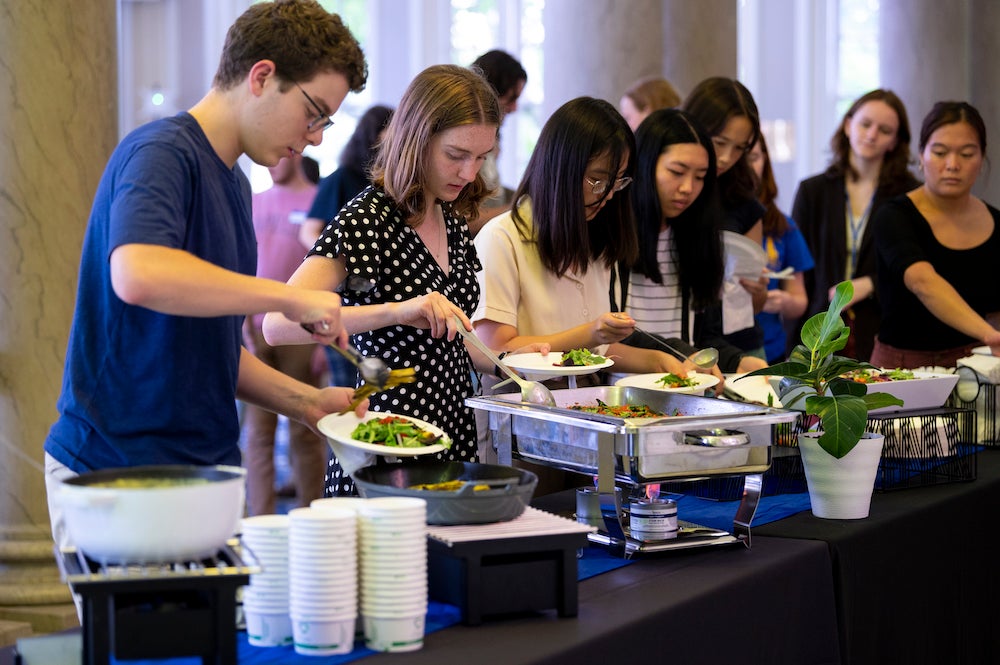 Nij Patel, one of the Chancellor's Scholars hosting the event, noted that each serving of the meal offered burned less than half a pound of carbon dioxide. Patel stated, "For comparison, a Big Mac from McDonald's would take 5 pounds of CO2, and a full-sized steak would take upwards of 30 pounds."
David Sanchez, associate director of the Mascaro Center for Sustainable Innovation, serves as the faculty lead for SholarCHEF. At the Sustainability Supper, Sanchez welcomed guests to the dinner and offered a reflection on the goal of scholar communities to change the world for the better through conversations and engagement with others.
Participants ate their carbon-tracked meals at themed tables based on areas of interest such as sustainable agriculture, food waste, alternative diets, food security, carbon tracking and Pittsburgh's local food ecosystem.
Connor Diaz, another Chancellor's Scholar, echoed Sanchez's sentiments on the advantages of hosting a dinner conversation. "Discussing things like food security and sustainability over a meal provides a comfortable forum to discuss otherwise 'hot' topics," Diaz said. "When one discusses things such as these over a meal, they quite literally break bread with the people with whom they are talking. This action of breaking bread, I think, helps to establish a baseline of empathy among the discussion's participants. This baseline encourages the honest sharing of ideas, even if such ideas might run contrary to others shared at the same table."
Thank you to Chancellor's Scholars Lauren Beck, Aaliyah Beckles, Livia Daggett, Connor Diaz, Joanna Fan, Aaryn Mathias, Owen May, Semira McFarlane, Lilly Nelson, Nij Patel, Claire Rossi and Dominique Thomas for hosting this event.
Learn more about scholar communities
Scholar communities are interdisciplinary communities of practice designed to connect students, faculty and scholars of practice around complex societal issues through academic courses, research opportunities, community engaged scholarship and co-curricular programming. For those interested in learning more about ScholarCHEF, please contact David Sanchez at davidsanchez@pitt.edu.